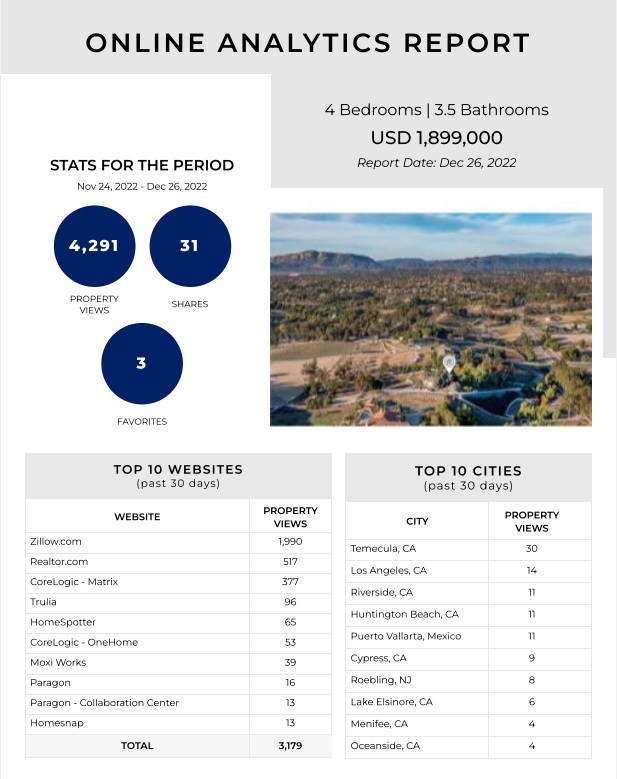 We have moved back to a normal market where it can take weeks or months to sell a property depending on the buyer pool and the number of competing listings.
Sellers and their listing agents need to have weekly feedback on how many buyers are viewing the home in order to gauge the effectiveness of marketing campaigns and evaluate buyer demand.
List Trac provides the detailed information that sellers want to see at no-cost to Coldwell Banker-Campbell Realtors agents.  Feed back data includes:
Total combined property views on websites and MLS, shares, favorites, and MLS saves.
Hit counts on the Top 10 Websites including: Zillow, Realtor.com, Matrix, Trulia, Homespotter, OneHome, ColdwellBanker.com, and HomeSnap.
The Top 10 cities where people are currently living that are looking at the listings and a tally from those hits are included along with a worldwide "heat map" showing areas of the world where buyers are located.
Professional and effective real estate agents stay in contact with their seller clients and give valuable feedback.  The data helps listing agents and sellers with pricing decisions, and demonstrates that the agent marketing has been effective in bringing buyer views & inquiries.
List Trac is an essential tool to keep a strong relationship with the seller during the marketing phase of the sale.
List Trac is very easy to set up.. for a quick "Demo" of the key strokes, here is a video: