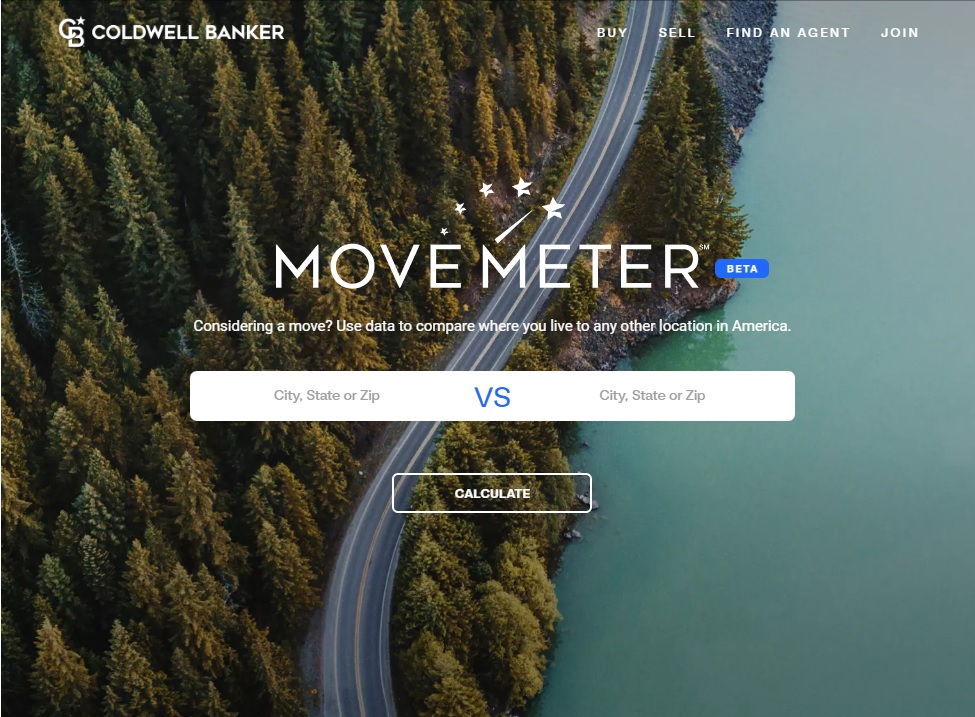 The Move Meter℠ compares cost of living city by city. It was created by Coldwell Banker Real Estate as part of a suite of industry exclusive tools to allow consumers to dream of home and guide them to their new destination.
Americans are on the Move (Meter)
Going the distance: The average Move Meter℠ search covered 1,015 average miles (about the distance of New York to Miami).

Eighty-two percent (82%) of all Move Meter℠ searches were looking to move out of state.
On the flip side, Massachusetts had the greatest proportion of searchers considering staying in-state, with 40% of all searches from Massachusetts looking to stay loyal to the Commonwealth.
Only about 13% of all searches were looking within a driving distance of 100-miles from their origin destination with the highest proportion of moves being somewhere between 500 to 1,500 miles away (42%).

Chasing Sunshine: While Midwesterners and Northeasterners are looking for warmer temps in the Southeast (38% vs 46%), Southeasterners, Southwesterners and Westerners all had higher likelihoods of staying local to their respective regions.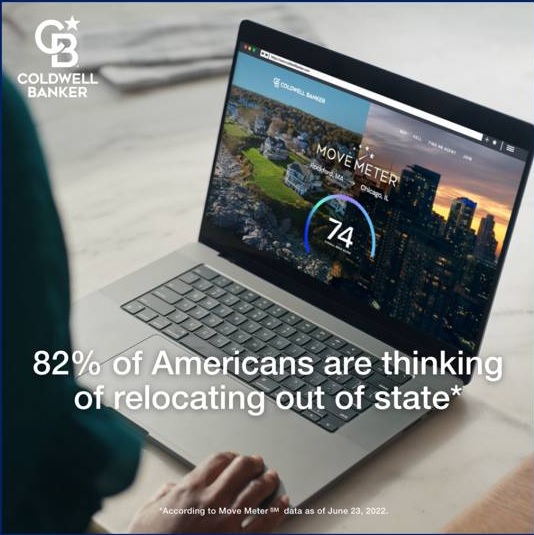 Americans are dreaming of moving – but where to?
Southern Charm: Austin, Texas, topped the chart as the most searched destination to move to, and had 46% more searches than the next closest destination. The top locale dreaming about moving to Austin is San Diego, California. So how does the move stack up? According to the Move Meter℠, the move from San Diego to Austin could be a smart move if you value job market strength.
California Dreamin': 20% of searches from California were looking to stay in the Golden State. The top in-state searches looking to move somewhere else within California were from San Diego, San Francisco and Bakersfield.

And for those looking outside of California, where were they dreaming about? Californians are looking to Texas, Florida, Tennessee and Washington overall, with Austin, Dallas, Seattle and Nashville having the greatest move appeal outside of California.

Burnin' Up for Florida: The #1 state topping the Move Meter℠ interest index was Florida with one out of seven of all Move Meter℠ searches looking to move to the Sunshine State.

The top states looking to soak up the Florida sun included New Jersey, California, New York, Illinois, Ohio and Massachusetts. Where in Florida are these searchers looking? Sarasota, Miami, Naples, and Tampa were the most popular searched cities.
Floridians don't disagree – they, too, see the appeal, as they were one of the top states searching for destinations within the state as well, with a quarter of Floridian searches looking to stay in-state.
The other top states Floridians are searching was North Carolina and Tennessee.

Destination Dreams: The top 10 searched cities included Austin; Sarasota, Florida; San Diego; Denver; Nashville, Tennessee; Tampa, Florida; New York; Naples, Florida; Charlotte, North Carolina; and Seattle.
Coldwell Banker-Campbell Realtors agents can add the Move Meter App to their MoxiWebsite at no cost.  It provides SoCal homeowners the opportunity to compare retirement and relocation destinations.